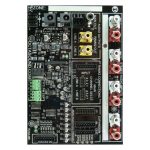 RASX4™ – 4 Channel Remote Audio Selector – Discontinued
Easy to operate intuitive interface. Turn the channel and turn the volume control
Custom Engraved Channel and Zone markings will not wear off
4 Standard RCA inputs
Accepts inputs from and provides power to RAMX2 and RABX2 mixers
RABX2 and RAMX2 can be programmed to any channel via jumpers
Balanced or unbalanced inputs
Mute circuit – normally open
Priority channel 4 – normally open
Installs in a standard outlet or electrical switch box
Highest quality components throughout
Double anodized markings will not fade or wear off
Weather-resistant design
Description
PRODUCT DOCUMENTS
SPECIFICATIONS
Description
Introducing the RASX4 remote audio selector from Octasound.
At a glance the RASX4 is a source select controller that allows users to select various music sources for specific areas / zones of a building. But beneath the basic shell Octasound has engineered a "one of a kind" commercial selector switch built with the client, end user and the installer in mind. It's intuitive interface requires no manual or in-depth training. You select a channel and turn the volume up or down.
Custom engraved panels
Octasound provides the only audio selector system with custom engraved panels for a truly professional looking system. No handwriting or stickers, that will wear off over time, to indicate channel selection.
LED channel indicators
The RASX4 indicates the selected channel with bright LED's. Red LED indicates off and a white LED's for Channel 1 to 4.
Aluminum Black Anodized Panel
The black aluminum anodized panels will withstand vandalism and are superior to similar plastic controls which break easily. The engraved panel will ensure the channel markings can never be altered or removed.
Buy only what you need
One Controller controls one zone. Easily expand your system one zone at a time with the RASX4's modular design.
No computer programming required
The RASX4 does not require any special software / firmware / programming whatsoever. It's so easy to configure you won't need a computer specialist to program it. No files to lose, no storage to worry about and no hidden computer settings.
** With computer programmed systems you don't own it and the manufacturer decides end of life for their products. The RASX4 is analog and modular in design. Swap any board in and out for a replacement repair.
Legacy Support
The RASX4 will never be obsolete and it's backwards compatible. It's audio in and audio out with no computer based system or firmware to keep up to date. Using industry standards all the devices we build are sure to be backwards compatible. The RASX4 can be used to replace the original MP200A source select modules built by KDM 30 years ago.
Daisy Chain
If you have more than one zone you simply add one control panel and main board for each zone. The power and audio sources can easily be chained together from one board to the next. Each RASX4 main board has a distribution amp allowing any channel signal to be routed to other zone inputs. 20 zones can be configured with just one power supply.
Priority control and mute.
The RASX4 can be used in priority mode or muted entirely.
Sealed volume controls
We use high quality sealed metal volume controls in our products. Plastic controls are more susceptible to damage / vandalism. The use of sealed metal controls also ensure they won't oxidize over years of use. The RASX4 is built for commercial environments.
PRIORITY MODE APPLICATIONS:
Connecting a switch to priority input activate/selects channel 4 automatically. Wire the switch from a microphone to mute all other channels, when pressed, and make an announcement.
Use a fire alarm pull to mute the audio channels and activate a microphone for critical announcements.
MUTE MODE APPLICATIONS:
With priority mute all music sources are muted / turned off. This is usefull if your building has an evac system. The sound system in the building will be muted and will not interfere with critical EVAC announcements.
Connect RAMX2, RABX2 Mixers into the RASX-MB for even more options.
The RASX4 accepts audio from and power to RAMX2 and RABX2 mixers. With these products combined you can achieve operation configurations for Arenas, Gyms, Restaurants, retails stores, schools, churches etc . The RAMX2 and RABX2 mixers can be configured onto any one of the four input channels via jumper. The RASX4 becomes the master control of the remote audio mixers, determining "on / off" and the maximum volume level for them.
Technical Specifications
General
Power Output:
30 Watts / Channel @ 8 Ohms
50 Watts / Channel @ 4 Ohms
Dimensions:
4.5″H x 2.75W x 1.4″D
Frequency Response:
20 Hz to 20 k Hz
Input Connector:
Terminal Block
Maximum Input Levels:
.5 Vrms
Output Connector:
Euroa Style Terminal Block – 2 x Orange
Power In Connector:
Euro Style Terminal Block – 1 x Black
THD+N:
.1% (VCC = 21V f=1 kHz, PO = 25W)
Power Required:
Local power via AC/DC adapter 15 to 24 Vdc. 1 to 5 amps.
Signal To Noise:
-102 dB (Max output at THD+N < 1%, f = 1kHz, Gain = 20 dB)
Aux Power Connector:
Terminal Block
Crosstalk:
-100 dB (VO = 1 Crms, Gain = 20dB, f = 1 kHz)
Mute Connector:
Terminal Block
Gain:
17 dB (150 mv to 1.0 v)
Aux power out:
15Vdc / 1 Amp
Input Sensitivity:
30.5 dB
Input Impedance:
11kOhms
Tone Controls:
Bass and Treble +/- 14dB